Canine cancer is on the rise. An astounding 1 in 4 dogs will develop a tumor of some kind during the short lifetime dogs are given here with us in the first place. Dogs get cancer at roughly the same rate as humans and over half of dogs currently aged over 10 years old will die of cancer.
Wow. Those are some pretty big numbers. Dogs are getting cancer for a host of reasons that like human cancer, is perplexing and very sad in so many ways.
I know personally I believe diet is a big factor and tend to study the food I'm feeding my dogs, making sure it is providing true dog nutrition. They've all lived a long healthy life so far.
Surf Dog Ricochet's Cancer Campaign – Donations
With the rise in canine cancer and dogs being a close family member, there is new research, treatment and drugs available to combat cancer in our furry best friends.
Cancer treatment is expensive and researching ways to prevent canine cancer is as well. Canine Cancer Campaigns are becoming a necessity to keep the research, treatments and hopefully a cure going.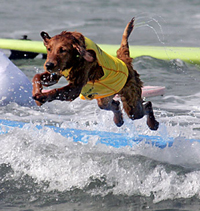 One of my favorite San Diego dogs who has been very good at fund raising in the last couple of years was recently injured at one of her romps by the beach. Surf Dog Ricochet will be fine once the stitches come out of her leg, but in the meantime she just could not stop herself from "Paying It Forward" once again and coming up with her own Canine Cancer Campaign.
Ricochet was originally planning on walking in a K9 Cancer Walk, but now will be doing it virtually while she is recovering from her injury. To follow what Ricochet is up to go directly to her website: Surf Dog Ricochet
If you'd like donate directly to Surf Dog Ricochet Canine Cancer Campaign at Morris Animal Foundation click here: Surf Dog Ricochet's Campaign.
Ricochet always has something going on. Always. And it's always pretty cool. Surf season is coming up so you won't want to miss anything there either. Join the very cool dog's Facebook page and get out to wag with your dog too!
Ricochet… You Rock!
If you like you are here and you liked this post subscribe here to stay updated on the newest coolest dog stories, training and dog friendly events.  Wag Report
Make a comment or Retweet 🙂