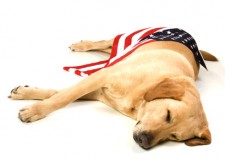 The 4th of July in San Diego is a bit easier on dogs than it is in some other states simply because fireworks are not allowed to be purchased by he general public.  Personally, for many reasons, I think this is a good thing.  From prevention of fires to the disturbing loud noises that can set dogs and animals into a fearful anxiety fit.
That being said, large fireworks shows and the occasional neighborhood person who has gotten a hold of some fireworks goes off and your dog can be effected.
Morning Exercise is Important Along with These Safety Measures
Keep your dog safe while you enjoy the holiday by making sure to keep your dog in a secure place if you plan to be away from your home for an event.  The best place would be in a crate or kennel…. you can refer to it as "a room of your dog own" if you'd like, within your home.
Never leave your dog unattended in the a yard or outdoor run.  Even the most balanced dog can have a reaction and a scared dog can get out of amazingly high fences or a small opening you weren't aware of.
Make sure to have identification tags on your dog.  The best of intentions has scene dogs get loose on this holiday so take this simple precaution and a lost dog can be returned home easily.  Micro-chipping is also highly recommended.  Dog news stories lately of dogs being returned from a distance or months of being gone is not only heart warming for the reader but makes for happy times in what could be a sad, bad situation.  Your dog can't talk so you will have to communicate on this one with tags or microchipping.
Whether you are planning on having a quiet cook out at your house or going to the beach the holiday usually brings events that are the normal daily plans.  To make it more fun for your dog the best thing you can do is get out first thing in the day for some exercise.  The more excitement you plan on for the rest of the day, the bigger you should go with exercise to take the edge off of your dog in the morning.
San Diego offers many options to get your dog out to burn off some of that energy.  Read Exercise:  What To Do When Your Dog Is Not Getting Enough for new ideas and a fresh look at activities with your dog.
If your dog does have issues with noise and option to help while you are out and about with friends or family leave some music going near your dog's kennel or crate.  Soothing music is best.  There is even music created specifically for your dog you may want to check into:  Music for Pets – Relaxation Songs Dogs and Friends Love While You Are Gone
Have an awesome 4th of July.  Get outside and wag more.
For more fun with your dog this July in San Diego sign up for an exclusive Dog Training Camp or take some Private Lessons to take your dog to the next level and incorporate fitness lifestyle with your dog as your training partner!  For more information on dog sports and games through The Collared Scholar call 619-916-8710
For more fun dog games, events and health news sign up for the Healthy Living Wag Report.
Jt Clough, has studied, applied and taught others how to create a balanced life with calm dog training techniques through her lifetime commitment to health and fitness. Clough is also the creator of dog wellness programs and author of the 5K Training Guide | Running with Dogs and Treading for Dogs DVD,  further inspiring people to introduce playtime in life through the eyes of a dog changing unwanted behaviors to practicing a healthy lifestyle.
Click "follow this blog" to the left and make sure to stay up on new events and cool dog news!!  Good stuff!