Black Friday will find many up early waiting in store lines to get the best deals. Good news if you are a dog lover. Black Friday starts on Thursday and you don't even have to leave your house to get the perfect gift for your dog.
Our dogs give us unconditional support and for that we love them dearly. Keeping them with as long as possible has become a priority for many and the easiest way to do accomplish that is through good health and fitness practices. Much like ourselves, the golden rules apply. Keeping the body healthy requires exercise and good food.
This year the perfect gift for your dog is health and fitness and there are few really great gifts that will fulfill that as well as make life with your dog even better for both of you.
Dog Treadmill
A dog treadmill has many benefits. It allows you to get the needed exercise every dog needs, 30 minutes to 1 hour a day is ideal. In weather conditions that could be too cold, too hot, too rainy or too dark it is difficult to get the exercise in that will keep your dog healthy and fit for a longer life.
For those with dogs that have issues, fear, too much energy, chewing all your favorite shoes or that lunges at every other dog scene while out and about, the dog treadmill is a big part of a well behaved dog.
Black Friday for the dog this year includes a $50 discount on any DogTread Treadmill. Click on the coupon and get your dog treading today. DOGTREAD Use code DK50
Dog Treadmill Testimonial
I must compliment your company for how well this machine was packed. I have never received a product packed so well. The triple-boxed, padded and banded packaging completely protected the DogTread. There was cosmetic damage on the outside of the box (gotta love those carriers who seem to do what they can to destroy everything) from apparent rough handling which at first had me concerned. However, when I finally got through all of the layers of packing protection nothing was damaged to my surprise.

Instructions were straightforward, assembly was simple – I couldn't be happier. The quality of the machine is very impressive. So often these days when an "unknown" quality arrives I always have doubts. Not so with the DogTread. Top notch fit and finish, very quiet, easily moved and all indications are that it will last a very long time. I am also very pleased with the included parts breakdown will make ordering parts easy should I ever need to.

Thank you for providing a great product. I wish you the best for future success with all your dog treadmills. Please feel free to share my comments if you choose to.

Sincerely,

John A M. and EmmyLou

Somerset, KY
5K Training Guide | Running with Dogs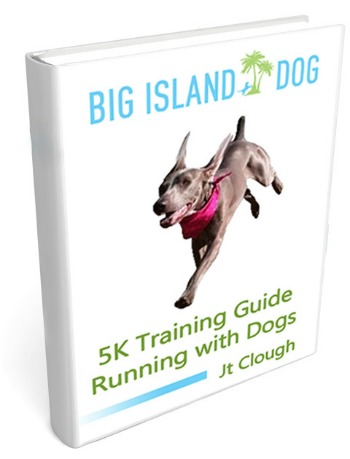 What could be better than a gift for your dog that helps you get feel tons better too? Granted you may have to add this one to a box of Pumpkin Dog Biscuit Treats for your dog to understand the concept of the :present thing", but even that is healthy way for you to celebrate the holiday with your dog.
The 5K Training Guide | Running with Dogs is an easy way for you to get your dog out and get active. If you've never run a 5K before this is for you. If you have run many 5K's this is also for you. The dog training tips are like having your own personal dog trainer with you for 10 weeks in a row.
You'll find a training program for you and all the tips and tricks to get your dog to be your best training partner ever along with every week's workout. Plenty of places to "ask the coach" along the way, all for an affordable price.
Enter BlackDogFriday as the discount code for the 5K Training Guide Running with Dogs and you'll get this training guide for you and your dog for only $4.97!
That's an amazing price for a gift that gives back to you as well!

Testimonial 5K Training Guide Running with Dogs
When Star started looking at me and then the leash and then going to the door I realized I truly had a workout partner that wanted to go all the time. It motivated me and with the tips I learned in the 5K Training Guide Running with Dogs she was running with me and not pulling me down the street or barking at other dogs anymore. Thanks Jt. P.S. she also answered all of my questions personally. It was worth more than the training I tried and failed that cost much more.

Buy now for only $4.97 with coupon code BlackDogFriday

Have a fabulous holiday and dog forget to The Grateful Dog Project. What you think you become, and you project the same for your dog!